Issues Summary
The Issues Summary report highlights issues with your existing open source packages in your workspace.
The Issues Summary report displays a holistic view of all issues in your workspace or selected registries.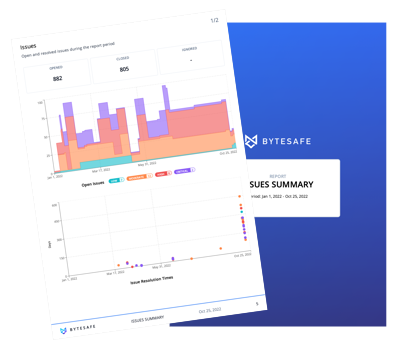 | Section | Description |
| --- | --- |
| Metrics | Metrics for the firewalls and registries included in the report, such as number of firewalls, registries, packages, versions and quarantined packages |
| Report Scope | A list of firewalls and registries used as a basis for the report |
| Quarantined Packages | Packages currently in Quarantine |
| Issues | Open and resolved issued for the selected time period |
| Top Open Issues | Open issues with a HIGH or CRITICAL severity |
| Slow issues | Issues with a HIGH or CRITICAL severity that have remained open for more than a defined slow-issue period, eg. 14 days. |
| Top Resolved Issues | Issues with a HIGH or CRITICAL severity that were resolved for the selected time period |
The table of contents lets you navigate to the different sections in the reports and all issues are linked directly to your workspace issues where there's additional information.
Filtering options
Defining the scope: the entire workspace or specific registries
Selecting a time period, for example year to date.
Defining time period when to not include Slow issues.
Slow issues
When generating the report you select the time period for Slow issues. Issues that are unresolved and older than the defined period will be considered Slow issues
Data in each generated report is based on the filters and the data that the user has
access
to.