Single Sign-On using Social Login
How to use Social Logins for Single Sign-On (SSO) to access Bytesafe
When signing up for Bytesafe you're able to use any of the below Social logins. It's also possible to use multiple services to access Bytesafe.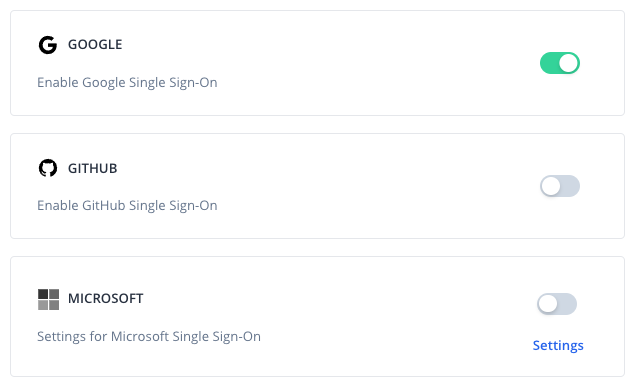 Restrict access to a specific tenant
To emphasize security you might want to restrict access to only approved resources. The table below shows which social logins can be restricted to a specific tenant
| Social login | Tenant restriction* |
| --- | --- |
| GitHub | No |
| Google | No |
| Microsoft | Yes |
Configure tenant restriction for Microsoft
In order to restrict to a specific tenant, follow the steps below.
Login to your Bytesafe Workspace.
Using an Administrator account, Navigate to Settings → Security → Microsoft and click on the Settings link.
Enter your Microsoft tenant ID in the settings slide over and click on the Save settings button.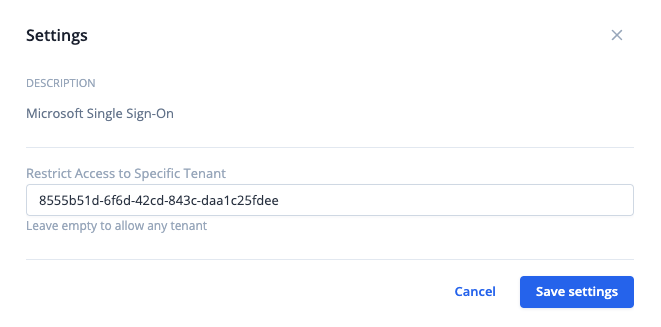 You might need to login to your Microsoft account to Find your Microsoft tenant ID.
Want to use SAML with your current Identity Provider?
Bytesafe supports SAML, which allows users within an organization to sign in to Bytesafe through their existing Identity Provider. To enable SAML, see
Single Sign-On using SAML
.